a showcase for fixed bayonet toy and model soldiers but one that includes a lot of other stuff
Monday, 6 October 2014
The life of a frontier soldier in the American West involved more combat with boredom than forays against hostile tribesmen. Troopers adopted a variety of healthy ways to while away the endless hours of routine garrison duty, but for those with an inclination for alcohol abuse, whiskey offered an easy escape.
In the case of Lt. Lovell Hall Jerome, accounts of heavy drinking are evident in many parts of his service record. Jerome's 1875 report of the "battle" of Blackfoot Pass brings to light his possible skirmish with the bottle rather than braves.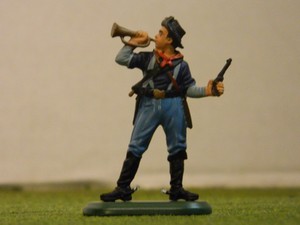 Born on August 6, 1849, into a wealthy New York family, Jerome grew up enjoying a life of ease. In addition to money, the Jeromes also had tremendous political influence. Some family members became especially prominent, such as his cousin Jennie, who married Lord Randolph Churchill and became mother to future British Prime Minister Winston Churchill. As a member of such a privileged family, Jerome gained a coveted appointment to the U.S. Military Academy in 1866. We can only guess if he began his apprenticeship as a heavy drinker at West Point, but after Jerome's graduation in 1870, he certainly began his lifelong battle with booze.
Jerome received his commission as a second lieutenant and orders to join the 2nd U.S. Cavalry at Fort Ellis in Montana Territory along with classmates Charles B. Schofield and Edward J. McClernand. En route to their various assignments, many of the 1870 graduates passed through Omaha barracks in Nebraska. The three Montana-bound shavetails also stopped at the garrison where, in McClernand's words, the "hospitality...for our preceding classmates continued to flow in our honor, and the post was indeed a merry place."
The new officers consumed so much of the liquid cheer that they delayed their departure for days. The commanding officer had to order them to leave.
The military had established Fort Ellis in 1867 as a response to settlers' imagined fears of an Indian invasion. Although the nearby hamlet of Bozeman never experienced an Indian attack, residents harped on the danger while also cheerfully selling whiskey to the idle soldiers every payday. Troopers didn't even need to ride to town because the post sutler offered refreshment in a barroom inside the fort.
Peter Koch, the sutler's clerk, described the situation as Jerome found it: "It is inspection day at the fort today, and the officers are here now on that duty, inspecting a few bottles of Champagne and some cigars, which is altogether one of their most important duties every day. They have never anything to do, except when officer of the day, drilling is something unknown, and consequently they have to drink whisky and play cards to kill time."
Jerome's defeats in his skirmishes with liquor are well documented. While on leave in 1872, he made New Year's Eve visits to more than 100 New York City families and, according to a later newspaper interview, "does not remember if he took a drink at every house he visited, but thinks it very likely."
Like most alcoholics in the 19th century, Jerome tried to fight alone what he perceived as a weakness, once reflecting that "as the habits of dissipation...grew upon me, my associates dropped off."
Trying to hide the effects of his drinking from his superiors, and the cost of it from his father, became increasingly difficult for Jerome. Bozeman resident William W. Alderson recalled a bartender once confronted Jerome with a liquor bill that exceeded $500 and threatened to send the bill to the lieutenant's father. After Jerome begged the man to send it to his mother instead, the invoice was quietly paid.
Desperate for money on another occasion, Jerome turned to gambling with humiliating results. He was slapped and kicked by an outraged Bozeman faro dealer when he discovered the young wastrel lacked the money to back any of his bets.
Sunday, 5 October 2014
Shamus Wade, who has died aged 86, was, from the late Sixties through to the Nineties, one of the world's leading authorities on, and dealers in, lead toy soldiers .
Wade was a young advertising copywriter in London when he began collecting toy soldiers — an enthusiasm that led to his renting a tiny Saturday morning stall on the Portobello Road. It proved a magnet for young collectors, including James Opie, the author and Bonhams expert. "Toy soldier dealer, collector, author, military historian ... Shamus Wade was a man of many attributes," Opie said.
It was only when Wade left the advertising world to become a full-time dealer that his reputation spread internationally.
He was the first to distribute by post comprehensive sale lists of old toy soldiers produced by manufacturers such as Britains, Hill, Heyde, and Ping. The detail and erudition in his cataloguing, and his unfailing honesty in describing the condition of the models (including the most minor repair or retouching) established his name as both the leading, and most trustworthy, authority in his field.
Wade's lists were also embellished by his own enthusiasms, with additional notes on some of the more obscure fighting forces of the British Empire, such as the Jammu and Kashmir Cuirassiers (mounted cavalry).
However, one of the highlights of his personal collection was a civilian figure: a village idiot. When the celebrated model-makers Britains presented their "farm range" at the British Empire Exhibition at Wembley in 1924, King George V and Queen Mary noted the lack of a village idiot. One was duly created (by Royal command).
By the early Seventies, the main London auction houses had created their own specialist toy soldier auctions, and Shamus Wade became the bidder to watch. His participation contributed to the growth in prices for toy soldiers as international collecting interest grew.
In 1974, encouraged by this growing interest, Wade created a series of "new old toy soldiers" commissioned from the manufacturers Jan and Frank Scroby. These were made in the style of old toy soldiers — solid-cast and hand-painted — but they were not copies. The "Nostalgia" series re-created in miniature the different regiments of the Empire, including the Indian Princely States, between 1850 and 1910.
More than 100 sets were produced, including forces such as the Truncheon Party of the 2nd Gurkha Rifles, the Sierra Leone Royal Artillery and the Bikanir Ganga Risala Camel Corps.
The Scrobys complained that he was a hard taskmaster, but he insisted that every detail of the uniforms and armaments that he had researched so fastidiously should be included in the models.
The research itself went beyond libraries: Wade managed, for example, to identify the uniform of the Gibraltarian Carreteros del Rey — the transport corps known as the "King's Cart Drivers" — by discovering the retired tailor who had made them as an apprentice.
Wade's Nostalgia soldiers became some of the most renowned collectables on the toy soldier market. Today, they are enjoying a considerable revival in popularity, as collectors discover the challenge of putting together complete sets. The number issued varied considerably. Wade used a limited-edition system of taking orders in advance, and having only that number manufactured — after which the moulds were destroyed.
Shamus Otway Davenport Wade was born on April 22 1928 at Pontefract, to Major Roland Wade of the Inniskilling Dragoons, and his wife, Noreen (née Coke). The Wade family of Clonbraney, Co Meath, had lived in Ireland since Cromwell's time. They had been forced to leave the country during the Troubles, but returned after the end of the Second World War.
Wade attended Bedford School and the Birmingham College of Arts and Crafts. After National Service, including service in Malaya during the Emergency, he was employed in the advertising industry for 20 years.
There is one legacy of Wade's time as a copywriter. Wade was part of the campaign to persuade the post-war British public that they would be unable to tell the difference between Stork margarine and butter. In the famous "Stork Challenge" television commercials, members of the public were given a taste-test to see if they could tell Stork from its dairy alternative, resulting in the celebrated claim: "Seven out of 10 people can't tell Stork from butter."
However, after refusing to provide copy for cigarette advertising, Wade changed tack, embarking on the dealing career that made his name.
After retiring from dealing and manufacturing, Wade established the Commonwealth Forces History Trust to promote better understanding of the role of Commonwealth forces in Britain's wars.
From the research collection of the Trust, he provided veterans and their families with detailed accounts of the military and policing units established under imperial and colonial rule.
He was a regular contributor to The Bulletin of the British Model Soldier Society, an active member of the Kipling Society, and, as a devotee of the products of the British toy company John Hill and Co, the organiser of its centenary dinner in 1998.
In 2012, the Shamus Wade Toy and Model Figure Collection was sold by Special Auction Services at Newbury.
"I always admired Shamus as a fount of all knowledge," said Hugo Marsh, director of the auctioneer's toy department, "an authoritative man, but with a great twinkle and sense of humour."
On the sale of his collection, Wade derived great satisfaction from the fact that many of the collectors — including some he had known since the Sixties — valued his toy soldiers with the same enthusiasm as he had himself.
Shamus Wade is survived by his wife, Flavia, and their daughter .
Wednesday, 1 October 2014