The Battle of Greece (also known as Operation Marita, German: Unternehmen Marita) is the common name for the invasion and conquest of Greece by Nazi Germany in April 1941.

Greece was supported by British Commonwealth forces, while the Germans' Axis allies Italy and Bulgaria played secondary roles. The Battle of Greece is usually distinguished from the Greco-Italian War fought in northwestern Greece and southern Albania from October 1940, as well as from the Battle of Crete fought in late May. These operations, along with the Invasion of Yugoslavia, comprise the Balkans Campaign of
World War II
.

The Balkans Campaign began with the Italian invasion of Greece on 28 October 1940. Within weeks, the Italians were driven out of Greece and Greek forces pushed on to occupy much of southern Albania. In March 1941, a major Italian counterattack failed, and Germany was forced to come to the aid of its ally. Operation Marita began on 6 April 1941, with German troops invading Greece through Bulgaria in an effort to secure its southern flank. The combined Greek and British Commonwealth forces fought back with great tenacity, but were vastly outnumbered and out-gunned, and finally collapsed.

Athens fell on 27 April, however the British managed to evacuate about 50,000 troops.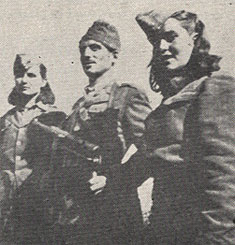 The Greek campaign ended in a quick and complete German victory with the fall of Kalamata in the Peloponnese;

it was over within 24 days. The conquest of Greece was completed through the capture of Crete a month later. Greece remained under occupation by the Axis powers until October 1944.