About 1828 people began to talk about the far West. Ohio was the place we heard most about, and the most we knew was, that it was a long way off and no way to get there except over a long and tedious road, with oxen or horses and a cart or wagon. More than one got the Western fever, as they called it, my uncle James Webster and my father among the rest, when they heard some traveler tell about the fine country he had seen; so they sold their farms and decided to go to Ohio, Uncle James was to go ahead, in the fall of 1829 and get a farm to rent, if he could, and father and his family were to come on the next spring.
Uncle fitted out with two good horses and a wagon; goods were packed in a large box made to fit, and under the wagon seat was the commissary chest for food and bedding for daily use, all snugly arranged. Father had, shortly before, bought a fine Morgan mare
and a light wagon which served as a family carriage, having wooden axles and a seat arranged on wooden springs, and they finally decided they would let me take the horse and wagon and go on with uncle, and father and mother would come by water, either by way of the St. Lawrence river and the lakes or by way of the new canal recently built, which would take them as far as Buffalo.
So they loaded up the little wagon with some of the mentioned things and articles in the house, among which I remember a fine brass kettle, considered almost indispensable in housekeeping. There was a good lot of bedding and blankets, and a quilt nicely folded was placed on the spring seat as a cushion.
As may be imagined I was the object of a great deal of attention about this time, for a boy not yet ten years old just setting out into a region almost unknown was a little unusual. When I was ready they all gathered round to say good bye and my good mother seemed most concerned. She said—"Now you must be a good boy till we come in the spring. Mind uncle and aunt and take good care of the horse, and remember us. May God protect you." She embraced me and kissed me and held me till she was exhausted. Then they lifted me up into the spring seat, put the lines in my hand and handed me my little whip with a leather strip for a lash. Just at the last moment father handed me a purse containing about a dollar, all in copper cents—pennies we called them then. Uncle had started on they had kept me so long, but I started up and they all followed me along the road for a mile or so before we finally separated and they turned back. They waved hats and handkerchiefs till out of sight as they returned, and I wondered if we should ever meet again.
I was up with uncle very soon and we rolled down through St. Albans and took our road southerly along in sight of Lake Champlain. Uncle and aunt often looked back to talk to me, "See what a nice cornfield!" or, "What nice apples on those trees," seeming to think they must do all they could to cheer me up, that I might not think too much of the playmates and home I was leaving behind.
I had never driven very far before, but I found the horse knew more than I did how to get around the big stones and stumps that were found in the road, so that as long as I held the lines and the whip in hand I was an excellent driver.
We had made plans and preparations to board ourselves on the journey. We always stopped at the farm houses over night, and they were so hospitable that they gave us all we wanted free. Our supper was generally of bread and milk, the latter always furnished gratuitously, and I do not recollect that we were ever turned away from any house where we asked shelter. There were no hotels, or taverns as they called them, outside of the towns.

In due time we reached Whitehall, at the head of Lake Champlain, and the big box in Uncle's wagon proved so heavy over the muddy roads that he put it in a canal boat to be sent on to Cleveland, and we found it much easier after this for there were too many mud-holes, stumps and stones and log bridges for so heavy a load as he had. Our road many times after this led along near the canal, the Champlain or the Erie,
and I had a chance to see something of the canal boys' life. The boy who drove the horses that drew the packet boat was a well dressed fellow and always rode at a full trot or a gallop, but the freight driver was generally ragged and barefoot, and walked when it was too cold to ride, threw stones or clubs at his team, and cursed and abused the packet-boy who passed as long as he was in hearing. Reared as I had been I thought it was a pretty wicked part of the world we were coming to.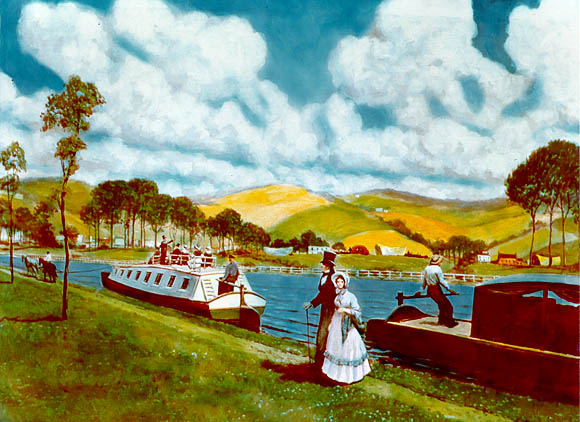 We passed one village of low cheap houses near the canal. The men about were very vulgar and talked rough and loud, nearly every one with a pipe, and poorly dressed, loafing around the saloon, apparently the worse for whisky. The children were barefoot, bare headed and scantly dressed, and it seemed awfully dirty about the doors of the shanties. Pigs, ducks and geese were at the very door, and the women I saw wore dresses that did not come down very near the mud and big brogan shoes, and their talk was saucy and different from what I had ever heard women use before. They told me they were Irish people—the first I had ever seen. It was along here somewhere that I lost my little whip and to get another one made sad inroads into the little purse of pennies my father gave me. We traveled slowly on day after day. There was no use to hurry for we could not do it. The roads were muddy, the log ways very rough and the only way was to take a moderate gait and keep it. We never traveled on Sunday. One Saturday evening my uncle secured the privilege of staying at a well-to do farmer's house until Monday. We had our own food and bedding, but were glad to get some privileges in the kitchen, and some fresh milk or vegetables. After all had taken supper that night they all sat down and made themselves quiet with their books, and the children were as still as mice till an early bed time when all retired. When Sunday evening came the women got out their work—their sewing and their knitting, and the children romped and played and made as much noise as they could, seeming as anxious to break the Sabbath as they had been to have a pious Saturday night. I had never seen that way before and asked my uncle who said he guessed they were Seventh Day Baptists.
After many days of travel which became to me quite monotonous we came to Cleveland, on Lake Erie, and here my uncle found his box of goods, loaded it into the wagon again, and traveled on through rain and mud, making very slow headway, for two or three days after, when we stopped at a four-corners in Medina county they told us we were only 21 miles from Cleveland. Here was a small town consisting of a hotel, store, church, schoolhouse and blacksmith shop, and as it was getting cold and bad, uncle decided to go no farther now, and rented a room for himself and aunt, and found a place for me to lodge with Daniel Stevens' boy close by. We got good stables for our horses.
I went to the district school here, and studied reading, spelling and Colburn's mental arithmetic, which I mastered. It began very easy—"How many thumbs on your right hand?" "How many on your left?" "How many altogether?" but it grew harder further on.
Uncle took employment at anything he could find to do. Chopping was his principal occupation. When the snow began to go off he looked around for a farm to rent for us and father to live on when he came, but he found none such as he needed. He now got a letter from father telling him that he had good news from a friend named Cornish who said that good land nearly clear of timber could be bought of the Government in Michigan Territory, some sixty or seventy miles beyond Detroit, and this being an opportunity to get land they needed with their small capital, they would start for that place as soon as the water-ways were thawed out, probably in April.
We then gave up the idea of staying here and prepared to go to Michigan as soon as the frost was out of the ground. Starting, we reached Huron River to find it swollen and out of its bank, giving us much trouble to get across, the road along the bottom lands being partly covered with logs and rails, but once across we were in the town and when we enquired about the road around to Detroit, they said the country was all a swamp and 30 miles wide and in Spring impassible. They called it the Maumee or Black Swamp
. We were advised to go by water, when a steamboat came up the river bound for Detroit we put our wagons and horses on board, and camped on the lower deck ourselves. We had our own food and were very comfortable, and glad to have escaped the great mudhole.We arrived in Detroit safely, and a few minutes answered to land our wagons and goods, when we rolled outward in a westerly direction. We found a very muddy roads, stumps and log bridges plenty, making our rate of travel very slow. When out upon our road about 30 miles, near Ypsilanti, the thick forest we had been passing through grew thinner, and the trees soon dwindled down into what they called oak openings, and the road became more sandy. When we reached McCracken's Tavern we began to enquire for Ebenezer Manley and family, and were soon directed to a large house near by where he was stopping for a time.
We drove up to the door and they all came out to see who the new comers were. Mother saw me first and ran to the wagon and pulled me off and hugged and kissed me over and over again, while the tears ran down her cheeks. Then she would hold me off at arm's length, and look me in the eye and say—"I am so glad to have you again"; and then she embraced me again and again. "You are our little man," said she, "You have come over this long road, and brought us our good horse and our little wagon." My sister Polly two years older than I, stood patiently by, and when mother turned to speak to uncle and aunt, she locked arms with me and took me away with her. We had never been separated before in all our lives and we had loved each other as good children should, who have been brought up in good and moral principles. We loved each other and our home and respected our good father and mother who had made it so happy for us.
We all sat down by the side of the house and talked pretty fast telling our experience on our long journey by land and water, and when the sun went down we were called to supper, and went hand in hand to surround the bountiful table as a family again. During the conversation at supper father said to me—"Lewis, I have bought you a smooth bore rifle, suitable for either ball or shot." This, I thought was good enough for any one, and I thanked him heartily. We spent the greater part of the night in talking over our adventures since we left Vermont, and sleep was forgotten by young and old.
Next morning father and uncle took the horse and little wagon and went out in search of Government land. They found an old acquaintance in Jackson county and Government land all around him, and, searching till they found the section corner, they found the number of the lots they wanted to locate on—200 acres in all. They then went to the Detroit land office and secured the pieces they had chosen.
Father now bought a yoke of oxen, a wagon and a cow, and as soon as we could get loaded up our little emigrant train started west to our future home, where we arrived safely in a few days and secured a house to live in about a mile away from our land. We now worked with a will and built two log houses and also hired 10 acres broken, which was done with three or four yoke of oxen and a strong plow. The trees were scattered over the ground and some small brush and old limbs, and logs which we cleared away as we plowed. Our houses went up very fast—all rough oak logs, with oak puncheons, or hewed planks for a floor, and oak shakes for a roof, all of our own make. The shakes were held down upon the roof by heavy poles, for we had no nails, the door of split stuff hung with wooden hinges, and the fire place of stone laid up with the logs, and from the loft floor upward the chimney was built of split stuff plastered heavily with mud. We have a small four-paned window in the house. We then built a log barn for our oxen, cow and horse and got pigs, sheep and chickens as fast as a chance offered.
As fast as possible we fenced in the cultivated land, father and uncle splitting out the rails, while a younger brother and myself, by each getting hold of an end of one of them managed to lay up a fence four rails high, all we small men could do. Thus working on, we had a pretty well cultivated farm in the course of two or three years, on which we produced wheat, corn and potatoes, and had an excellent garden. We found plenty of wild cranberries and whortleberries, which we dried for winter use. The lakes were full of good fish, black bass and pickerel, and the woods had deer, turkeys, pheasants, pigeons, and other things, and I became quite an expert in the capture of small game for the table with my new gun. Father and uncle would occasionally kill a deer, and the Indians came along and sold venison at times.