The story of the unique friendship that grew between Quanah and the Burnett family is addressed in the exhibition (where?) of cultural artifacts that were given to the Burnett family from the Parker family
. The presentation of a cultural relic as significant as Quanah's war lance was not done lightly.
It is a clear indication of the high esteem to which the Burnett family was regarded by the Parkers. The correspondence between Quanah and Samuel Burk Burnett and his son, Tom Burnett, expressed mutual admiration and respect.
The historical record mentions little of Quanah until his presence in the attack on the buffalo hunters at Adobe Walls on June 27, 1874. Fragmented information exists indicating Quanah had interactions with the Apache at about this time.
This association may have related to his taking up the Native American Church, or peyote religion. Quanah was said to have taken an Apache wife, but their union was short-lived. The Apache dress, bag and staff in the exhibit may be a remnant of this time in Quanah's early adult life.
With the buffalo nearly exterminated and having suffered heavy loss of horses and lodges at the hands of the US military, Quanah was one of the leaders to bring the Quahada (Antelope) band of Comanches into Fort Sill
during late May and early June 1875. T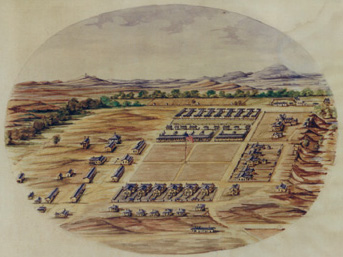 his brought an end to their nomadic life on the southern plains and the beginning of an adjustment to more sedentary life.
Burk Burnett began moving cattle from South Texas in 1874 to near present-day Wichita Falls, Texas. There he established his ranch headquarters in 1881. Changing weather patterns and severe drought caused grasslands to wither and die in Texas. Burnett and other ranchers met with Comanche and Kiowa tribes to lease land on their reservation—nearly one million acres just north of the Red River in Oklahoma.
Originally, Quanah, like many of his contemporaries, was opposed to the opening of tribal lands for grazing by Anglo ranching interests. But, Quanah changed his position and forged close relationships with a number of Texas cattlemen, such as Charles Goodnight
and the Burnett family. As early as 1880, Quanah was working with these new associates in building his own herds. In 1884, due largely to Quanah's efforts, the tribes received their first "grass" payments for grazing rights on Comanche, Kiowa and Apache lands. It is during this period that the bonds between Quanah and the Burnett family grew strong.
Burnett ran 10,000 cattle until the end of the lease. The cattle baron had a strong feeling for Indian rights, and his respect for them was genuine. Where other cattle kings fought Indians and the harsh land to build empires, Burnett learned Comanche ways, passing both the love of the land and his friendship with the Indians to his family. As a sign of their regard for Burnett, the Comanches gave him a name in their own language:
Mas-sa-suta,
meaning "Big Boss."
Parker earned the respect of US governmental leaders as he adapted to the white man's life and became a prosperous rancher in Oklahoma. His spacious, two-story Star House had a bedroom for each of his seven wives and their children. He had his own private quarters, which were rather plain. Beside his bed were photographs of his mother Nadua (Cynthia Ann) and younger sister Prairie Flower. Parker extended hospitality to many influential people, both Native American and European American. Among the latter were the Texas surveyor W. D. Twichell and the cattleman Charles Goodnight.
Of all his white acquaintances, Parker counted Burk Burnett the best. He reportedly said: "I got one good friend, Burk Burnett, he big-hearted, rich cowman. Help my people good deal. You see big man hold tight to money, afraid to die. Burnett helped anybody."
During the next 27 years Parker and the Burnetts shared many experiences. Burnett helped with the construction of Star House, Quanah's large frame home, which bore the inverted white stars signifying his rank. Burnett asked for (and received) Quanah's participation in a parade with a large group of warriors at the Fort Worth Fat Stock Show and other public events.
The "Parade" lance depicted in the exhibit was usually carried by Quanah at such public gatherings. Burnett assisted Quanah in buying the granite headstones used to mark the graves of his mother and sister. After years of searching, Parker had their remains moved from Texas and reinterred in 1910 in Oklahoma on the Comanche reservation at Fort Sill.
According to his daughter
Wanada
Page Parker, her father helped celebrate President Theodore Roosevelt's inauguration by appearing in the parade.Roosevelt visited Parker at Star House and they went wolf hunting together with Burnett.
After moving to the reservation, Quanah got in touch with his white relatives from his mother's family. He stayed for a few weeks with them, where he studied English and Western culture, and learned white farming techniques.