My family were originally from Massachusetts, my father being a descendant of the Puritans, he inherited many of the qualities of his ancestors, and, joined to a high integrity, he possessed a dogged will that at times amounted to stubbornness.
From childhood he had led the life of a farmer, and my earliest recollections are associated with country life. My father's disposition might be characterized as restless; and after sojourning for a time in one place, he would evince symptoms of uneasiness which would result in the family moving to some new spot, and breaking ground in virgin soil on the confines of civilization. By these successive removals we soon found ourselves far to the west of the home of our ancestors, and at the time my father resolved to
[Pg 8]
go to California, we owned a very nice farm in Missouri, and as far as I could see were very comfortably situated.
On returning from the county seat one Saturday, my father electrified us with the intelligence that he thought seriously of going West. Had a bombshell exploded in our midst it could scarcely have created greater consternation; on inquiring what had induced such a sudden determination on his part, he was fain to confess that he had met a gentleman in town who had but just arrived from the new El Dorado, and who spoke so enthusiastically of this marvelous country, that he led my father's too diligent ear captive, and his mind was saturated with the desire to see, without further delay, this wonderful land. The rest of the family stoutly objected to such a hasty resolve, and we finally effected a compromise, and it was agreed that the stranger should be invited to spend a portion of his time at our house, and during his visit we could consult, argue, and finally conclude what action should be taken in the matter.
I had serious misgivings that our fair home was doomed; knowing too well my father's character, and that any objections we might make to the proposed departure would only strengthen his determination to have his own way. Such was his intense love for the unknown, that any plausible fellow could induce him to see the advantages of owning a thousand acres of wild land to his own well-tilled homestead.

The following week Mr. Terhune made his advent among us. He was a fair type of the adventurer, and seemed a man who could be equal to any emergency circumstances might demand; of robust form, a complexion bronzed by exposure, and with an address so pleasing when he wished to exert himself, that he soon became a favorite, especially with the female portion of the family. He adapted himself to our mode of life with wonderful ease, and apparently was making preparations for a visit that should outlast our expectations. The beauties and advantages of a home in his adopted State was his constant theme; and so pleasantly did he talk, illustrating his arguments with anecdotes so amusing and apposite, that I felt myself being perceptibly influenced by his views, and used to dream of climbing trees of prodigious height, and gathering nuggets from their branches as if they were apples. When lending an assisting hand at our farm labors, he would descant on the fertility of the soil on the Pacific Slope, saying that crops grew almost spontaneously, and related what fortunes could be made raising sheep.
By such means were we seduced into the conviction that a change of base was not only advantageous, but necessary, and it was finally decided to go. Mr. Terhune said he could negotiate an exchange, by which we could dispose of our farm for California real estate, whereby we would be the gainers; and one Monday morning in April, he left us for St. Louis, to
0
]
complete the trade and purchase. Our intentions becoming known in the vicinity, our neighbors seemed to take an especial interest in our movements, and many were the staid old farmers who called to offer us their advice and wishes for our future prosperity. Being notified that all was in readiness, and that we could start as soon as it suited our convenience, we lost no time in packing what few articles we required, and bidding our friends adieu, we commenced our journey.
Arriving in St. Louis, we were greeted by Mr. Terhune who escorted us to the Planters' Hotel, where we were temporarily to reside until the steamboat on which we were to embark was ready to leave. The few days spent in the metropolis of the West, was thoroughly enjoyed by our little party, as under the guidance of our friend we visited all the places of interest in the neighborhood. On Saturday, April 30th, we embarked on the steamboat Prairie Flower, bound for Independence, where we were to make the necessary purchases for our outfit in crossing the plains, and were also to join a train that was being formed, and of which we were to become part and parcel.
After an uneventful journey we reached Independence, only to find that the train we expected to join had left two days previously; here was a dilemma, and we were at a loss what to do. I was in favor of waiting until another train could be formed, but father objected, stating as his reasons, that it would

consume both time and money; neither of which did we possess in vast quantities. Meantime we had
become the centre of attraction to quite a motley crowd, who stood looking on, and seemed to take a lively interest in us, criticising our appearance and indulging in various remarks which were not always of a complimentary Character. Noticing an old weather-beaten frontiersman,
who stood some little distance off, and thinking he could perhaps suggest a way out of our difficulty, I made up to him, and after the usual salutations and a proffer of some tobacco, to which he helped himself in rather large quantities, I asked him his opinion, and what he thought we had best do under the circumstances.
Drawing his lank form out of the entanglement it seemed to have been in, he delivered himself in somewhat the following manner:
"Wal stranger, pears to me, I would jist git rite arter that ere party, quicker'n greased lightning, kase you see, they haint been gone long, and if you drive yer animiles rite smart, you will ketch up in jist no time."
This advice struck me as excellent, and returning to our party I communicated it to them. We resolved to adopt it at once, only wondering we had not thought of it before.
Having come to this determination, we busied ourselves with the necessary preparations, and on the third day after the departure of the train, we bade
[
adieu to the few acquaintances made during our brief Independence, and struck out upon the almost trackless prairie.
Our equipment was that in general use among prairie travelers, and consisted of a "Concord" wagon, covered with white canvas, and drawn by six mules, in the management of which rather intractable animals my father was an adept.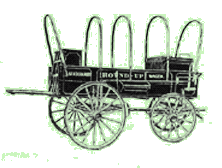 In the wagon were stored our few household goods and scanty supply of provisions, and in it rode my wife and mother. My brother and myself figured as a mounted guard, and presented a not unpicturesque appearance in our tunics of dressed deerskin, and leggings of the same material; our revolvers in our belts, and rifles slung over our shoulder, or resting on the pommels of our Mexican saddles. Everything seemed propitious; the wagon moved off smoothly, the morning was clear, and the great red disc of the sun just rising in the east had scarcely dispelled the haze that enveloped nature as in a fleecy mantle. We little dreamed, alas, of the dreadful fate soon to overtake us. That fate which was to dissever a loving and united family, causing three of its members to pass through the valley of the shadow of death, and subjecting the survivors to suffering that often made them cry out in the bitterness of their hearts "why was I spared to suffer such torture, when death would have been such a welcome relief!"